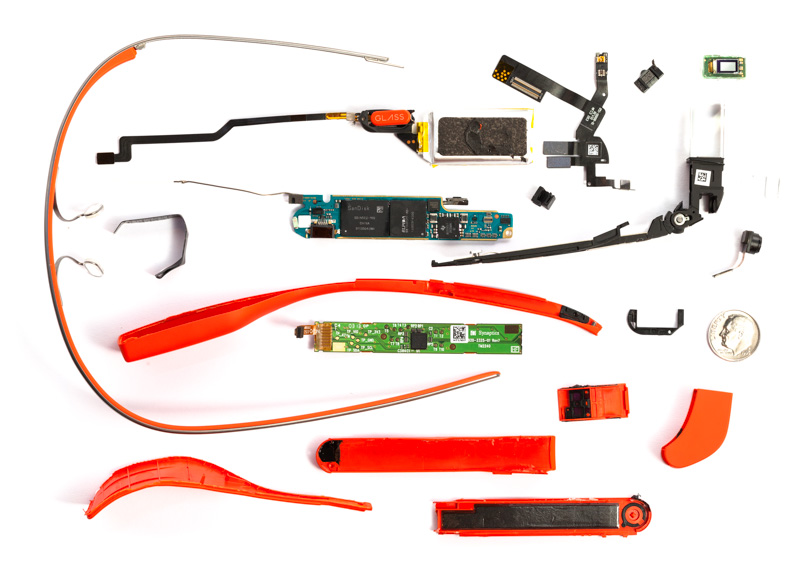 Some highlights of teardown of google glass below.
"
core chips powering Glass: a TI OMAP4430, 16GB of SanDisk flash, and an Elpida mobile DRAM chip.
"
Ron
Insightful, timely, and accurate semiconductor consulting.
Semiconductor information and news at -
http://www.maltiel-consulting.com/
What's Inside Google Glass?
What is this Glass thing anyways?
Google's latest and hottest gadget needs little introduction.
Since its public unveiling in April 2012, the tiny head-mounted
Android computer has been collecting controversy and sociological
analysis. It is currently available in limited beta to eminent members
of the tech community and to a selection of "Glass Explorers". As
members of the latter program, we are delighted to be able to explore Glass.
.......
Side Touchpad
Removing the casing exposed a few parts, including the separate touchpad module on the right side of the unit. When a Glass users looks like they are pensively tapping their temple, they are interacting with this sensor. The touchpad is a full custom module made by Synaptics, and is driven by a Synaptics T1320A touchpad controller.
Main CPU Board
The main logic board was now exposed. The inwards-facing side holds an RF module, some small connectors and support ICs, and copper noting that this is "a GOOGLE [X] production".
This board was stuck to a thermal pad with lots of paste. After removing it and cleaning off the pink thermal compound, we revealed the core chips powering Glass: a TI OMAP4430, 16GB of SanDisk flash, and an Elpida mobile DRAM chip. A flex PCB and an RF cable, anchored with some metal tabs and an MMCX (?) connector, trailed from this board to the behind-the-ear pod.
Behind-Ear Module
To keep the unit's weight distributed more evenly, Glass keeps its battery in a rounded bit behind the wearer's ear. We stripped this area open, again applying destructive force to tear the plastic.
The single-cell Lithium Polymer battery sits at the end of the flexprint PCB and is marked as having a capacity of 2.1 Wh (roughly 570 mAh). It is not user-replaceable, not even a little bit.